Andy Osborne bio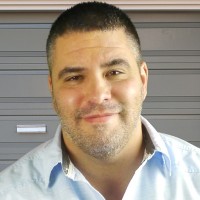 Andy Osborne was born in Oxford, Mississippi, on May 1, 1972, to Andrew and Alison Osborne, their first and only child.

Andrew enjoyed his job as a shoe salesman at the local Sears, and Alison hers as a part-time town librarian.

Their neighborhood was filled with the vibrant chaos of playing children and barking dogs. In the summer, people came together for block parties and barbecues. In the winter, they decorated and sang carols.

Andy was a middling student, happy to do the least amount possible to maintain a C average, but he never doubted he held the correct position on every issue. His unshakable certainty got him into countless teenage scuffles and landed him in detention more than a few times.

Motivated by the desire to buy his first dream car, a 1973 Chevy Camaro, Andy found a part time job in the warehouse of a struggling biotech company.

After graduation, they promoted him to a full-time fork truck driver and promised his low wages were balanced by his stock options that would someday be worth a fortune.

While at a company softball game against a nearby manufacturing business, Andy met Charlene Thomas and asked her out before the seventh inning stretch. The two dated on and off for six years before Andy proposed.

With Charlene's support, Andy started taking classes in warehouse management to improve his prospects for promotion.He discovered that learning about subjects that interested him was much more enjoyable than his high school classes had ever been.

Three years after Andy and Charlene married, the biotech company where Andy worked made a miraculous breakthrough, and the stock he'd been collecting skyrocketed in value. Andy announced he was cashing in, and he and Charlene would live on the proceeds.

Charlene was pleased with the windfall but told him she wouldn't know what to do with herself all day every day without work, so she wouldn't be quitting her job. Andy wasn't happy about her decision but decided to let it go for the time being.

With Charlene still working, the now-retired Andy found himself with a lot of time on his hands. A promotional course catalog in his mailbox inspired him to sign up for a class at the local community college.

That one class led to many more, and Andy became something of an autodidact, taking classes both locally and online in history, sociology, psychology and anything else that piqued his interest.

Within months of Andy's retirement, the couple moved out of their apartment to an upscale neighborhood where Andy pursued his interest in fixing up old vehicles, much to the consternation of his neighbors.

Luckily, Andy was able to win over many of his detractors by inviting them to block parties the likes of which had never been seen.

When Andy found Butch at the shelter and brought him home, it was like the final missing piece fell into place. As far as he was concerned, his life was perfect.