George Donnelly bio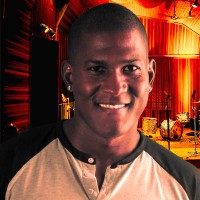 George Darrell Donnelly was born on March 18, 1988, in Boston, Massachusetts. He was the only child born to William and Linda Donnelly, who owned and operated a sports bar.
William and Linda both were collegiate track competitors and sports enthusiasts. They owned a Chihuahua-mix dog named "Bolt" after the Jamaican track star Usain Bolt.
George was an average student and an average athlete, but an above-average musician. He studied classical violin to appease his parents but practiced fiddle and mandolin whenever he could get away with it. He completed just enough homework to pass and spent long hours studying and practicing music.
George's commitment to music was nearly an obsession, and as a result, he had very few friends. He set challenging musical goals for himself and set about to achieve them.
All throughout high school, George dreamed of going to Nashville immediately after graduation to form a bluegrass band. George's parents insisted that he go to college. They wanted him to stay local and attend Berklee College of Music.
As a compromise, George chose to attend the University of Mississippi, which was as close to Nashville as his parents would accept. At Ole Miss, he excelled in all of his studies and continued to perfect his musicianship.
Throughout college, he made money playing as a substitute musician and developed an increasingly solid reputation as a reliable and accomplished player. He graduated in 2010 with a Bachelor of Music Performance.
After graduation, the demand for George's talent and ability as a substitute musician continued to increase, and he and now makes an excellent living subbing at gigs all across the Southeastern U.S. He also teaches private students.
In the early hours of January 1, 2016, George's parents were shot in an armed robbery as they were closing the bar. Their bodies were discovered the next morning with Bolt lying between them.
George inherited both the bar and the dog. He sold the bar immediately. Figuring out what to do with the dog was more difficult.
George's lifestyle was not conducive to dog ownership and he was reeling from his parents' murders, but he had to take action, so he brought the dog home to Oxford. It was a long drive made longer by Bolt's howling.
Bolt is not just depressed. He's demanding. George's parents spoiled the dog, and George has limited time to spend caring for a dog that refuses to eat dog food and insists on being carried everywhere.
George tried once to give Bolt away by putting a flyer up at the local pet supply store. He returned the next day to remove it because, despite Bolt's disruptive behavior, George cannot bring himself to give the dog to a stranger.
Until he can figure out what to do with Bolt, George has quit traveling, but he still teaches privately out of his home.