Taz Wilson bio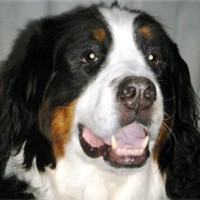 Taz is a six-year-old, partially deaf, male Bernese mountain dog. Taz is active, loving and eager to please. He loves to swim and to chase squirrels.
He's so smart that he knows the difference between his rope toy and his ball and will, on command, retrieve the correct one.
His first owners wanted a guard dog and expected Taz to be content lying quietly on the front porch. They gave him food and water but otherwise ignored him. They never got him neutered.
Because of his hearing impairment, Taz often wasn't aware that his owners were yelling at him to stop loping through their flower beds. This made his owners think he was misbehaving.
Taz also could seldom hear people approaching the house, which made him a pretty bad guard dog.
In 2011, when he was a year old, the owners gave up on Taz. They put an ad on Craigslist and sold him for $50.
Taz's second owners ran a breeding operation. They kept the animals fed and the cages clean, but they overbred the dogs. Early last year, they were caught forging AKC pedigree certifications, were prosecuted, and all of the dogs in their care were rescued.
Taz was sent to the Yoknapatawpha County Humane Society. Due to neglect and lack of training, as well as his natural hyperactivity, Taz was considered to have behavioral issues. This affected his adoptability, and the longer he spent at the shelter, the more depressed he became.
After three months at the shelter, Lawrence and Kiki Wilson adopted him. In just one month with the Wilsons, Taz's joy for life returned.
In the past year, he has learned many new commands just by watching Kiki, and he and Lawrence swim every day in a big, inflatable pool.