Neighbors celebrate kid heroes
OXFORD WEEKLY PLANET
Lamar Park neighbors celebrate kid heroes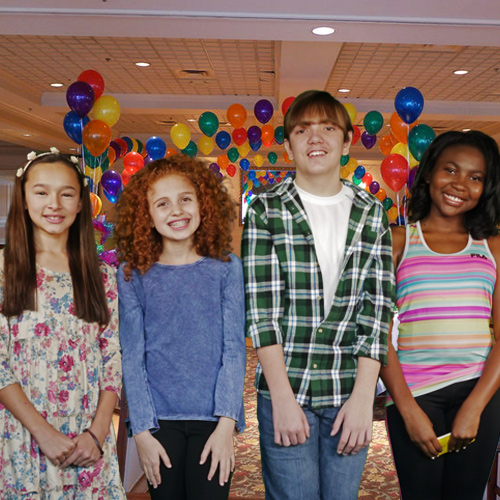 The neighborhood clubhouse was filled to capacity with both people and their pet dogs when the residents threw a Thank You party for the Kudzu Kids, who reunited them with their beloved pets.
The clubhouse was dressed up to the nines. The decorating committee even included Frisbees in the centerpieces to welcome the dogs back home.
The kids — Zach Burgess, Melody Cheever, Rachel McGowan, and Emma Wooten — spent most of the party mingling with the rescued dogs and their owners.
"Lucky is my partner. He's much more than just a dog. I missed him terribly," said Ophelia Rickard with tears in her eyes.
Ms. Rickard wasn't the only one teary-eyed at the party. She is just one of many neighbors who were fortunate enough to have their dogs rescued by the Kudzu Kids.
Franklin Guyton sat outside while his dog, Champ, snoozed next to him. "I knew something was wrong when I didn't hear my Champ barking," he said. "He's never wandered off."
Nearby, Andy Osborne watched while his dog, Butch, played on the lawn with the Kudzu Kids. "Butch is a member of our family. My wife and I are forever grateful for the Kudzu Kids and their amazing efforts to return him and all the other dogs."
Mayor Thomas Winfield was also in attendance. "What these kids did for the neighborhood dog owners was extraordinary," he said. "I can only hope other children strive to follow in their footsteps and be a contributing part of this wonderful community."
The community caters
Furthering the community spirit of the event, the neighborhood committee had the party catered by local restaurants The Red Fern and The Sweet Shoppe.
Angela Donalson, owner of The Red Fern, said, "I was honored to be asked to cater for the party. As a dog owner myself, I can only imagine what these families went through with their dogs missing."
Chloe Morgan, owner of The Sweet Shoppe, was so impressed with the Kudzu Kids, she not only made her famous red velvet cupcakes but also baked and donated special doggie treats for the dogs.
Remarkable rescue rewarded
The neighbors chipped in and had a special Thank You plaque made for the Kudzu Kids. The plaque had a paw print and the names of all the dogs they helped save.
The kids attributed their success in locating the missing pets to their teacher, Dr. William Lamar, and what they learned from him at CSI camp.
The Kudzu Kids would not accept a monetary reward for their efforts, so the dog owners have started a scholarship fund for local kids to attend CSI camp each summer.
Kudzu Kid Zach shrugged off the accolades. "This party was a big surprise for us. We were only doing what was right. We're just happy the dogs have been reunited with their families."
By Oxford Weekly Planet News at 9:50 PM
Kudzu Kids Related Information